Overview
Parnaby offer an extensive range of sizing screens to suit all applications. One of the key components of any wet processing setup is the de-watering screens. As critical as it can be to get the material wet for effective processing in a wash plant, it is equally important to de-water the products prior to sale or disposal.
For example the trash screen plays a key role in removing the water from the discharged trash element, meaning the customer doesn't pay unnecessary landfill costs for the water content. Similarly dewatering screens have to be used on products to ensure the removal of water from end products such as coal, sand, aggregates where the customer is charged on a tonnage rate for product and does not want to pay for the additional moisture of the water.
To ensure optimal water removal from the sized products, the Parnaby range of dewatering screens are extremely aggressive and can be designed with various inclines to aid with product retention. The excessive vibration coupled with the inclined screen bed means the material has to work uphill giving longer time on the screen allowing for more efficient dewatering. The Parnaby dewatering screens come in various size screen decks and can be fitted with a range of media to determine the product size depending on the clients specific application.
Additionally, Parnaby offer a range of de-watering screen solutions from standard dewatering screen decks and sieve bends to the Parnaby rotary sieve screen which can all be utilised in various applications.
How do De-Watering Screens work?
The concept of de-watering screens is no new concept and put simply is the removal of the moisture from a product. The highly aggressive screening action coupled with the angle of the screendeck, often running slightly uphill, retains the material on the screendeck whilst agitating it to take the moisture out through the small aperture screens.
| Types | Dimensions |
| --- | --- |
| High frequency | 6x3 |
| Inclined | 8x4 |
| Horizontal screen | 10x5 |
| | *larger available on request |
*All above available in the following sizes
Make an enquiry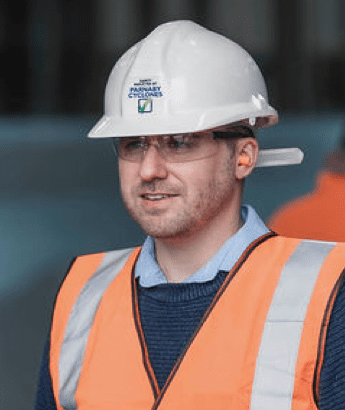 Ian Parnaby
Projects Manager
Have a question for our team?