Overview
The Parnaby Dense Medium Drum barrels are proven technology across a wide range of challenging applications. The robust barrels allow customers to process a range of different feed materials where the split is achieved based on density. The Parnaby Dense Medium Drum is the most efficient single piece of equipment available for separating minerals and waste with different gravities.
Such is the efficiency of the barrel, material which are of a 50:50 ratio of heavies to light fractions can be accurately split.
The dense medium drum is horizontal and revolves slowly (about 1 – 3 rpm). As the raw material enters the drum, magnetite is added via the water circuit to achieve the required density. This enables raw material direct from its source to be processed through a single Parnaby wash plant, separating out the impurities and providing an assortment of washed product grades. Separation is achieved entirely by the buoyancy of the medium; dynamic effect plays no part.
For example, in coal applications, coal floats near the surface of the medium and flows out of the end of the drum. The heavier shale or high density coal particles fall to the bottom of the drum and are moved along the scrolls to perforated lifters which collect and deliver into a chute to give the segregated desired materials.
How do Parnaby Dense Medium Barrels work?
In practice the light fraction floats on the medium and discharges out the end of the drum with the heavier fraction sinking and move up the drum using scrolls. The contra flow effect also serves to help with the separation of the materials.
| Type | Model | Throughput |
| --- | --- | --- |
| Dense Medium | Parnaby DM50 | upto 50tph |
| Dense Medium | Parnaby DM100 | upto 100tph |
| Dense Medium | Parnaby DM150 | upto 150tph |
| Dense Medium | Parnaby DM200 | upto 200tph |
Make an enquiry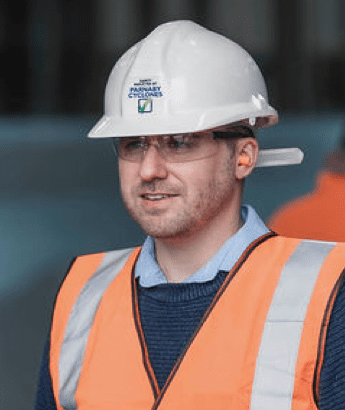 Ian Parnaby
Projects Manager
Have a question for our team?