Overview
Parnaby offer a range of crushers and sizers for the volume reduction of materials within a system. Parnaby sizers are world renowned in the coal industry and originated from the acquisition of Ansec back in 2005. Building on an already excellent product, Parnaby enhanced the design and manufacture of the range to develop them into the industry leading sizers that the Parnaby range have become today. Often sizers are used to reduce materials to a certain size with minimal fines production, making it an ideal solution in the coal sector
Crushers on the other hand are designed for large volume and high reduction ratio units ideally suited for aggregates or recycling applications. Parnaby provide jaw, cone or impact hammermill style solutions as part of our turnkey wet processing systems.
Parnaby A550 Mineral Sizer
The Parnaby A550 series of mineral sizers have been developed from the highly successful A200 single roll and A500 twin roll sizers. This largescale twin roll sizer is capable of upto 2500 tonne per hour throughput.
Considerable research and development coupled with extensive field trials have helped to produce machines which can accurately size material with very low fines production. This leading to increased efficiency in the transportation of materials by effectively eliminating the problem caused by large lumps of material.
The A550 sizers are extremely robust in design giving efficient operation with minimum operating costs and maintenance. Materials up to 28,000 to 30,000 psi compressive strength can be effectively processed by these machines.
Throughputs of up to 2,500 tonne/hour have been achieved, but this will vary depending on the material being processed, infeed size and the sizing requirements.
A200 Series Mineral Sizers
The Parnaby A200 series of mineral sizers were developed to meet the needs of the mining industry Globally. Capable of processing material up to 28000 psi, the Parnaby A200 sizers use a variety of pick designs from the basic carbide tips point attack to the purpose designed cast manganese steel teeth for special applications.
Years of experience coupled with extensive development based on extensive field trials have helped to refine a machines which can provide accurate volume reduction with minimal creation of 'fines'
One of the key features of the A200 is its ease of operation, with adjustments to the size of product made very simply. Additionally, the sizer is easily maintained with teeth being individually changed if required reducing down time and keeping cost to a minimum.
The Parnaby A200 Mineral Sizer is a pour through machine designed for throughputs from 30 tonnes per hour to 1800 tonnes per hour.
Crushers
Parnaby are delighted to offer a wide range of crushers for your volume reduction requirements. Our design team can integrate crushers into existing plants or as part of a new turnkey solution.
From impact crushers and cone crushers to hammermill type chambers, Parnaby can offer the right crusher for your particular application to ensure the reduction ratio is in keeping with the materials and desired products.
Sizer Range
Infeed Size
Overall Dimensions
Inlet Dimensions
Weight
Shaft Centres
A200 Mini Sizer
0-150mm
H:440mm
W:735mm
L:1040mm
L:820mm
W:282mm
2Tonnes
N/A
A200 Half Case Sizer
0-200mm
H:600mm
W:1145mm
L:3125mm
L:750mm
W:600mm
4 Tonnes
N/A
A200 Standard Case Sizer
0-500mm
H:600mm
W:1360mm
L:3750mm
L:1120mm
W:1140mm
7 Tonnes
N/A
A550 Twin Roll Standard Case Sizer
0-500mm
H:600mm
W:1360mm
L:3750mm
L:1120mm
W:1140mm
8 Tonnes
550mm
A550 Twin Roll Case & Half Sizer
0-800mm
H:600mm
W:1350mm
L:4300mm
L:1680mm
W:1140mm
11 Tonnes
550mm
Two Stage On Pan Breaker
0-1000mm
H: 1800mm
W: 3700mm
L: 3100mm
L: 1000mm
W: 1700mm
12 Tonnes
750mm

Typical Sizer data including gearbox and motor.
Make an enquiry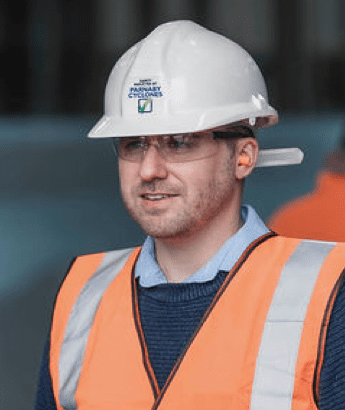 Ian Parnaby
Projects Manager
Have a question for our team?