Overview
Parnaby offer an extensive range of sizing screens to suit all applications. From single deck, double deck and triple deck conventional screens to horizontal and flip flow type screenboxes, Parnaby have a solution for all screening tasks.
Parnaby's single, double and triple deck sizing screens are available in a range of sizes depending on the throughput, retention time on the screen deck and application to be screened.
In addition the Parnaby horizontal screen range, commonly referred to as low deck screens offer a very efficient and accurate method of screening. The flat surface and aggressive screening motion enable the low level screens to be highly efficient in the accurate separation of small particle sizes such as for single sized aggregates.
Furthermore Parnaby offer live deck screens, also known as flip flow screen decks. These actively flip the material upwards, aiding the separation by making the material air borne. This type of screen is particularly useful on sticky materials or on fine sizing such as trommel fines or sand.
All screen decks are available with a range of screening media from mesh to polyurethane panels more akin to washing applications. Most of our screen decks can also be utilised as rinsing decks for a final clean up of materials or to add water for wet processing
How do Parnaby Sizing Screens work?
The concept of sizing screens is fairly simplistic in that this module is used to separate different particle sized materials. The aperture or hole sizes of the screen media dictates the size of particle which can pass through. To aid this process the screen deck is shaken and in some cases can be hit with water to aid the process by forcing material through the holes.
Make an enquiry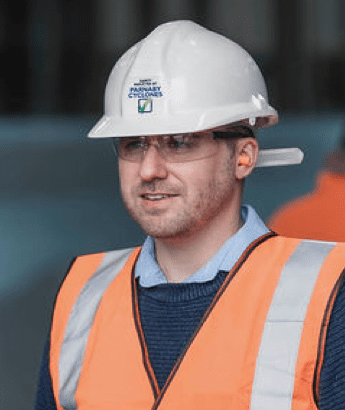 Ian Parnaby
Projects Manager
Have a question for our team?