Overview
The Parnaby multi-roll filter belt presses are used at the last stage of effluent treatment to remove the water content from the sludge. Unlike plate style presses which operate on a batch cycle, the Parnaby belt presses work continuously. They are a cost efficient and reliable method of separating solids from liquid to produce dry filter cake and particle-free filtrate.
Although they do not achieve the same levels of moisture removal as plate presses in terms of dryness of cake, belt presses are significantly cheaper and often offer a more suitable solution depending on the clients space, needs and further use for the filter cake.
Specifications
Fully galvanised frame
Long life, double-row spherical bearings
Heavy duty rollers with 1mm urethane coating
Variable pneumatic belt tensioning
Variable speed main drive
Stainless steel filtrate trays
Long life polyester filter belts
Stainless steel belt washing sprays.
Benefits
High throughput
Continuous operation
Dewatered, easy-to-handle filter cake
Excellent quality of filtrate
Minimal operator supervision
Maximum reliability
Minimum maintenance
Low capital cost.
Technical Details
| Width (mm) | Capacity (tph - dry solids) | Cycle Variant |
| --- | --- | --- |
| 1000 | upto 4 | Standard |
| 1200 | upto 6 | Standard |
| 1500 | upto 10 | Standard |
| 2000 | upto 15 | Standard & Long |
| 2500 | upto 20 | Standard & Long |
| 3000 | upto 30 | Standard & Long |
How does a filter belt press work?
The filter belt press is used to remove the water content from the sludge in a wet processing system. Unlike a plate press which operates in batches or cycles, the belt works continuously. Sludge is pumped through the belt press where the series of rollers squeeze the water from the material to remove the water content.
Make an enquiry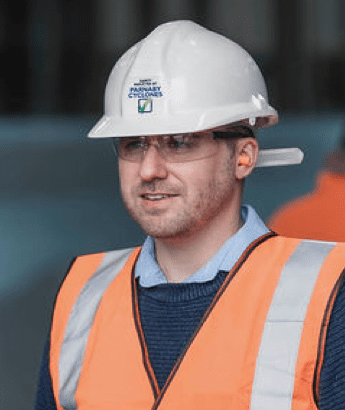 Ian Parnaby
Projects Manager
Have a question for our team?