Overview
The Parnaby Density Cyclones, also commonly known as Horizontal Hydro-Cyclone Separators are a fines material classifying cyclone which are used for density separation of particles with similar characteristics, making it one of the most technologically advanced products available in wet processing. The Parnaby Density Cyclone separator is unique in that unlike conventional sizing cyclones which are vertical, these operate horizontally. The purpose being to split materials by density, allowing high value materials to be recovered which would normally are lost in conventional sand plants using vertical cyclones, clusters or bucket wheels.
The horizontal cyclone separator can be used alone or in a system. Larger plants may include banks of cyclones operating in tandem to do a series of cuts to the material to allow for optimal recovery and purity.
Able to recover particles down to 0.5mm, Parnaby horizontal cyclones are working Globally on a range of difficult applications including lignite removal, organics removal from sand, trommel fines cleanup, and coal classifying amongst others.
How do horizontal cyclone classifiers work?
The water/particle mixture is pumped into the side of the cyclone tangentially and swirls around creating a vortex in which the lighter particles are drawn to the middle and out to a dewatering screen. The heavier particles are thrown by centrifugal force to the wall of the cyclone and are discharged at the opposite end.
Make an enquiry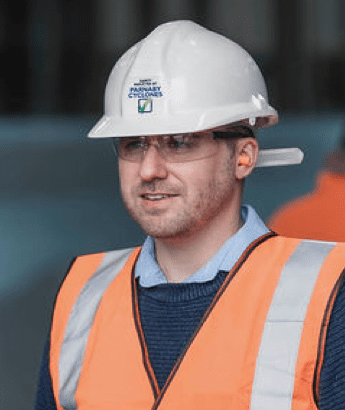 Ian Parnaby
Projects Manager
Have a question for our team?