Overview
The Parnaby Sizing Cyclones, also commonly referred to as Vertical Hydro-Cyclone Separators are used for classifying fine materials. Most commonly used in sand processing to produce one or two grades of sand from quarrying, recycling, and sand & gravel applications, cyclones can often be referred to as sand plants in wash plant terminology. The primary purpose is to desilt the material by removing all the impurities out of the sand. Parnaby vertical cyclones are suitable for classifying product down to as exacting fractions as 20 to 150 microns, and we offer a range of sizes depending on the classifying requirements and throughput.
All our vertical fines classifying cyclones come with integrated sump tanks, pumps and dewatering screens configured to each customers specific requirements to ensure the purest of products. The cyclone gives maximum size protection before the thickener and classifier components, ensuring optimal recovery of materials out of the water system.
How do vertical cyclone classifiers work?
Vertical Hydro-Cyclone Separators work on a centrifugal basis and are mounted so that the smaller particles come out of the top and the larger particles at the bottom using gravity.
Make an enquiry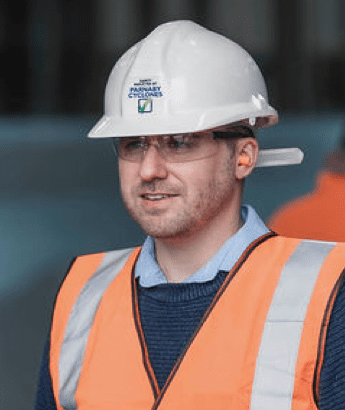 Ian Parnaby
Projects Manager
Have a question for our team?