Overview
The Parnaby range of vibratory tray feeders offer an ideal solution for spreading materials at transfer points or for handling sticky materials. The Parnaby tray feeder range are often referred to as vibratory feeders, vibro feeders or shakers. These components are sometimes utilised as a feed point but are commonly incorporated within a system to keep materials moving on awkward bends or to disperse material across the width of a belt. As a result our tray feeders play a key role in our overall washing solutions.
Parnaby vibro tray feeders are robust to ensure longevity in difficult environments that they are utilised. The low maintenance design concept associated with Parnaby equipment is evident in the build of the tray feeder range.
Parnaby vibratory feeders are available in different sizes dependant on throughput and can be setup with greater throw depending on the application
How do Parnaby Vibratory Feeders work?
Materials are loaded directly onto the vibratory feeder either as an initial feed point or within a system to aid material flow. The agitation of the tray created by the vibration moves the material forward whilst spreading it evenly across the entire width. This is ideal for transferring to different widths such as screening deck or an eddy current
Make an enquiry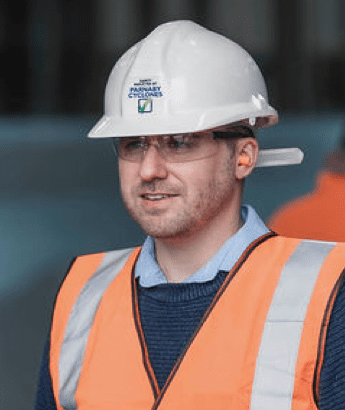 Ian Parnaby
Projects Manager
Have a question for our team?