Overview
The Parnaby range of screw feeders offer a very specialist solution to material handling of awkward feed types. Robust in design due to the steel build screw, these specialist feeders are perfect for moving awkward materials in compact footprints. Another key feature of screw feeders is the heavy duty nature of what can be handled. Driven by heavy gearing equipment, the screws continuously move materials from A to B, often at steeper angles than a typical belt.
Extremely versatile in terms of applications, Parnaby screw feeders play an integral part in getting awkward materials into a system for further treatment in a barrel or logwasher for example.
The screw feeders are suitable for sludge, organics, aggregate, waste, and many other waste streams, guaranteeing a steady feed.
Parnaby screw feeders are available in different lengths, diameter of screw and throughput capabilities depending on the applications and customer needs.
How do Parnaby Screw Feeders work?
Materials are loaded directly into a collection hopper where the screw rotates and collects the material as it turns. The diameter and distance between the scroll coupled with the RPM dictates the capacity and feed level.
Make an enquiry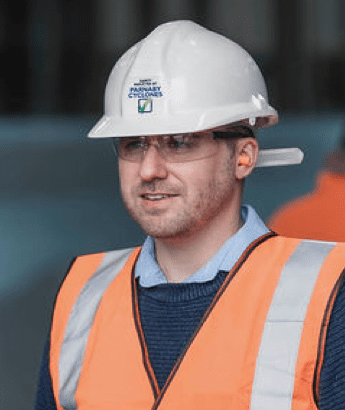 Ian Parnaby
Projects Manager
Have a question for our team?