Overview
Parnaby Cyclones manufacture a wide range of de-watering screws for a wide range of applications. These are bespoke designed and robustly manufactured to suit our customers specific, often unique requirements.
Our de-watering screws can often be referred to in the marketplace as screw separators due to the process of dewatering as the material travels up the screw.
How do de-watering screws work?
The material is fed directly into the separation bath of the de-watering screw where the heavier material sinks and is screwed out via the screw auger. As the material travels upwards on the screw, gravity and the unique design both ensure optimal de-watering of the materials
Screw Separator Range
Throughput TPH
Water Requirement
Overall Dimensions
Equipment Weight
MK3
5-7 TPH
40m³ initial fill requirement
H:7200mm
W:4100mm
L:15000mm
12 Tonnes
Make an enquiry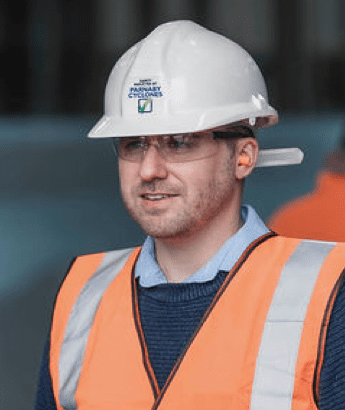 Ian Parnaby
Projects Manager
Have a question for our team?