Overview
The Parnaby range of filter plate presses are used at the last stage of effluent treatment to remove the water content from the sludge.
Plate style filter presses operate on a batch cycle, where the dirty water is fed into a series of plates which are compressed together to effectively dry the filter cake by squeezing out the water content. They are a cost efficient and reliable method of separating solids from liquid to produce dry filter cake and particle-free filtrate.
Parnaby's vast experience around water treatment allows our knowledgeable team to advise on the optimal filter press solution to suit your specific project. The key areas for consideration are throughput, silt composition, budget, desire/ability to press on and water volumes
Specifications
Variable plate number configurations

Plate sizes

Buffer tank setup to enable optimal production

Variable cycle times.
Benefits
High throughput
Batch processing
Low moisture filter cake
Clean water to recycle
Minimal operator supervision
Maximum reliability
Minimum maintenance.
Technical Details
| No of Plates | Plate Dimensions | Optional Features |
| --- | --- | --- |
| 20 to 250 | 800x800 upto 2500x2500 | Fully automated plate shifting |
| | | Cake shaking mechanism |
| | | Cloth wash system |
| | | Rapid cake discharge systems |
How does a filter plate press work?
The filter plate press is used to remove the water content from the sludge in a wet processing system. A plate press works on the principle of slurry being fed into the system where the material is squeezed dry by the plates which are filled with the material. After the cycle is finished the clean cakes are discharged, leaving them extremely dry for future purposes.
Make an enquiry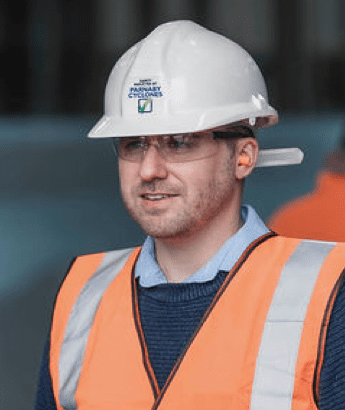 Ian Parnaby
Projects Manager
Have a question for our team?