Overview
The Natural Medium Barrel Plant was introduced by Parnaby to the Global market over 60 years ago. Given its exceptional separation efficiencies, the Parnaby Natural Medium Drum has become recognised worldwide as the industry leader in density separation in washing applications. Over the many years of production, the designs and performance have been perfected, with significant improvement and development on top of an already successful design.
With hundreds installed and working across the Globe, the technology initially was synonymous with coal washing which given the close particle size composition to be separated, was a fantastic grounding upon which to develop into other sectors.
Now Parnaby have barrels of differing sizes working on numerous applications including trommel fines, glass, WEEE, C&D waste, muckaway and many others.
Parnaby offer a range of barrels with different diameters and lengths to suit the application, throughput and feed size.
Technical Details
| Type | Model | Capacity | Max Feed |
| --- | --- | --- | --- |
| Natural Medium | 4 -30 | 45-50 TPH | < 100mm |
| Natural Medium | 5 - 30 | 60-70 TPH | < 100mm |
| Natural Medium | 6 -30 | 80 TPH | < 100mm |
| Natural Medium | 7 - 30 | 120 TPH | < 100mm |
| Natural Medium | 8 -36 | 200-220 TPH | < 125mm |
| Natural Medium | 9 -40 | 300-350 TPH | < 150mm |
| Natural Medium | 10 - 40 | 400 - 450 TPH | < 150mm |
How do Parnaby Natural Medium Barrels work?
Raw material and water are fed into the top of the barrel to fluidise the material.
The water combines with the fine and heavy materials to form a viscous natural medium (1.0 to 1.3sg). The barrel is angled, and the inside is scrolled. The combination of the viscosity of the medium and the dynamic effect of the barrel revolving (at 5 – 20 rpm) causes the light fraction to float near the top of the flowing stream. The heavier material, sinks to the bottom and is carried by the scrolls back out of the top end of the barrel and for further processing or stockpiling depending on the requirements
At the lower end of the barrel there is a sizing screen which lets water and small particles drain through. This mixture is pumped to the cyclones for fine separation and sizing, an example being sand in a muckaway or trommel fines application. The light fraction that is larger then passes over a dewatering screen and effectively removed from the stream.
Make an enquiry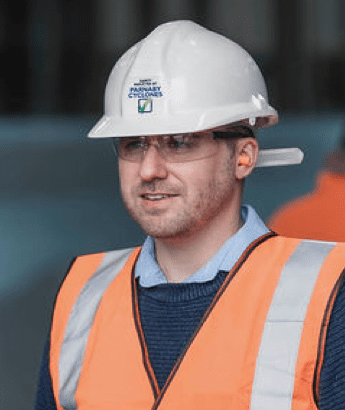 Ian Parnaby
Projects Manager
Have a question for our team?