Overview
The Rotary Sieve has a wide range of applications. They are primarily used as a separation technique. The Filter Drum & Screen rotate driven by two solid rubber wheels mounted on two shafts driven by two independent motor/gearboxes. The effluent feeds into the centre of the 'Filter Drum' of the 'Rotary Sieve' and water from the spray bars flows through the top part of the drum as it rotates ensuring self-cleaning of the filter screen by eliminating the remaining impurities. As the Filter Drum rotates the two freewheeling brush assemblies clean the screen removing residual small particles from the apertures of the screen.
Particles larger than the mesh aperture size are agitated by the movement of the screw compactor and moved towards a compacting zone and the solids discharged.
Particles smaller than the mesh aperture size passes through the filter screen and channelled away towards the outfeed pipe.
The specific design of the screening zone allows it to be inspected in the stop position thanks to detachable hatches enabling cleaning. In addition, the screening zone can be washed by means of high-pressure jets.
Benefits
High throughput
Modular design
Easily assembled (fabricated for bolted assembly)
Stand-alone — support mounted
Equipment quality meets all aspects of ISO 9001 accreditation
Installation, Commissioning and Process & Technical Support.
| | | |
| --- | --- | --- |
| Model | Diameter | Flow Rate |
| Parnaby RS600 | 600 | upto 50m3ph |
| Parnaby RS900 | 900 | upto 120m3ph |
| Parnaby RS1200 | 1200 | adsupto 200m3ph |
Make an enquiry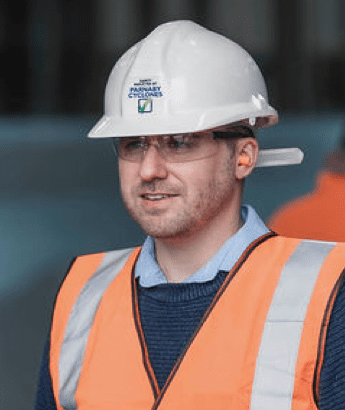 Ian Parnaby
Projects Manager
Have a question for our team?