Overview
Parnaby offer a range of log washers for the agitation, scrubbing and classifying of clay bound materials. Typically found as part of an overall washplant solution, our logwashers come in different sizes with both single and twin shaft configurations depending on your requirements.
Suited to a wide range of applications including muckaway, sand & gravel, mining and Construction & demolition materials, Parnaby logwashers play a key role in turning your waste materials into high value recycled products.
Our feature rich and robust logwashers are designed to produce optimal liberation of materials with minimal wear to ensure cost effective washing. From hard wearing paddle configurations to dynamic water flow to ensure the flotation of lights and contaminants, the Parnaby design truly is cutting edge. Additionally, our logwashers offer unrivalled access from a maintenance perspective, with the design focusing on serviceability as much as productivity.
How does a log washer work?
Material is fed into the hull of the log wash where it is spread into the base of the log and hit with significant water flow. At this point the paddle design manoeuvres the material up the log which is at a slight angle. Throughout this travel, the contents are agitated and the material on material attrition is used to liberate and clean the materials as they travel up the log. The silts and light fraction are floated down the log using a contra flow water system, ensuring a clean material being discharged from the mouth of the logwasher.
Make an enquiry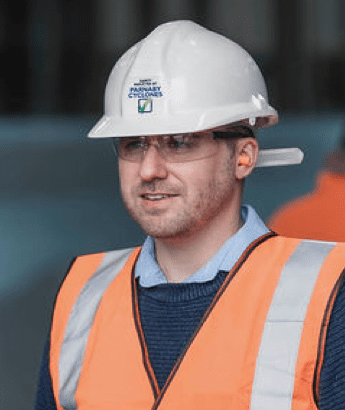 Ian Parnaby
Projects Manager
Have a question for our team?